Want to Make a Donation?
Call Managing Trustee Lon E. Scow
(801) 322-4830 or (801) 560-1476
All Donations to The John Taylor House Are Fully Tax-Deductible
Online Donating Now Available
The John Taylor House has arranged to accept donations online through Network For Good, one of the most trusted online donation processing nonprofit companies. As a 501(c)(3) nonprofit organization, all donations we receive are tax-deductible. To donate using Network For Good's safe and secure donation page, just click on the Donate Now button in the left-hand column of any page throughout this web site.

The John Taylor House, managed by John Taylor House II Inc., a nonprofit organization, always accepts donations with gratitude. Donations are an integral part of what we're trying to accomplish. All donors receive a tax-deductible receipt for the amount of cash donated or the fair market value of merchandise donations.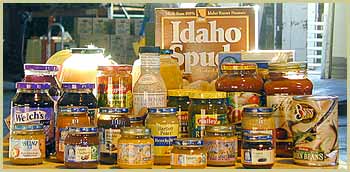 Currently, we are seriously in need of tax-deductible donations of the following:
Cash Donations, Both Large and Small
Foodstuffs, Especially Meat (Fresh or Frozen)
Personal Hygiene Products
(Bath Soap, Shampoo, Antiperspirant/Deodorant, Shaving Cream, Razors, etc.)
Bath Towels
Twin Size Sheet Sets and Pillows
Twin Size Blankets
Heating and Air Conditioning Equipment / Maintenance
Floor and Window Coverings
Construction Materials and Tools
Cars, Trucks, Boats, or Real Estate for Liquidation
Asphalt Work
(Filling Cracks and Potholes)
Volunteer Labor
(Painting, Carpet Cleaning, Yard Work, etc.)

Put The John Taylor House in Your Will
So Blessing Those in Need Becomes Part of Your Legacy

Your help will assist us in continuing our important work for those who stand in need of our services. We know you'll feel the same sense of reward through contributing that we do in providing our needed services. Simply contact The John Taylor House at (801) 484-6263, or mail your donation to:
John Taylor House II Inc.
PO Box 526182
Salt Lake City UT 84152-6182